Translation
All our programmes seek to advance fundamental understanding of human cognition, and together make progress on our shared Grand Challenges. We are committed to combining excellence in basic science with applied work that translates research-led insights into benefits for human health and well-being. The MRC CBU has built close links with clinical and educational partners so we can both inform, and be informed by, changes in practice. 
Most of our programmes include strong translational elements focusing on disorders that impair quality of life and impose significant economic burdens on society. These range from deafness, learning difficulties and mental health problems, through to diseases of the brain including stroke, dementia, and Parkinson's disease.
Translating our research
Can neuroimaging tell us about hidden cognitive abilities in people with minimal speech?
Can neuroimaging tell us about hidden cognitive abilities in people with minimal speech?
A team of CBU scientists are developing a neural test that may be able to detect language comprehension in autistic people with minimal spoken language.
The test uses EEG to measure children's neural responses to spoken sentences. It relies on machine-learning algorithms to detect whether the brain responds differentially to sentences that are semantically correct or incorrect. With this approach, the team found that they could detect language processing from the brains of 9 out of 10 children, without requiring them to give any spoken answers. We also validated the use of a portable, inexpensive EEG system, which could be used to test children outside the lab, where they are more comfortable.
We are now testing whether our methods can be used with non-speaking autistic people, which could give important insight into the language abilities of this under-researched population.
The published paper is:
Petit, S. et al. (2020) Toward an Individualized Neural Assessment of Receptive Language in Children. JSLHR.   https://doi.org/10.1044/2020_JSLHR-19-00313
Auditory-inspired algorithm to improve speech perception and reduce power consumption
Auditory-inspired algorithm to improve speech perception and reduce power consumption
Worldwide over 800,000 people with severe-to-profound hearing loss use a cochlear implant (CI) to perceive sound. CIs can be used by babies, who are born deaf, after just a few months up to the elderly who lost their hearing later in life. Despite ongoing research efforts, speech perception in noisy environments remains a major problem with CIs and can have a negative impact on quality of life and mental health.
Researchers at the MRC CBU developed a novel CI processing strategy (Lamping et al., 2020) that uses an auditory model to remove stimulation pulses that are less likely to be perceived by a listener. The removal of these pulses reduces unwanted electrical charge interactions within and between different CI electrode channels and has the potential to alleviate listening difficulties with CIs. Due to the removal of redundant stimulation, the strategy further reduces power consumption, thereby extending battery life of CI devices or freeing up resources for more sophisticated sound processing. Results of a study with CI listeners using this strategy showed that speech-in-noise perception was improved and that power consumption was reduced by about 40% compared to a standard strategy. If the initial results are confirmed, then this strategy could be implemented to improve future CI devices.
Citation
LAMPING, W., GOEHRING, T., Marozeau, J., & CARLYON, R. P. (2020). The effect of a coding strategy that removes temporally masked pulses on speech perception by cochlear implant users. Hearing research, 391, 107969
Learning to read in classrooms and brain scanners
Learning to read in classrooms and brain scanners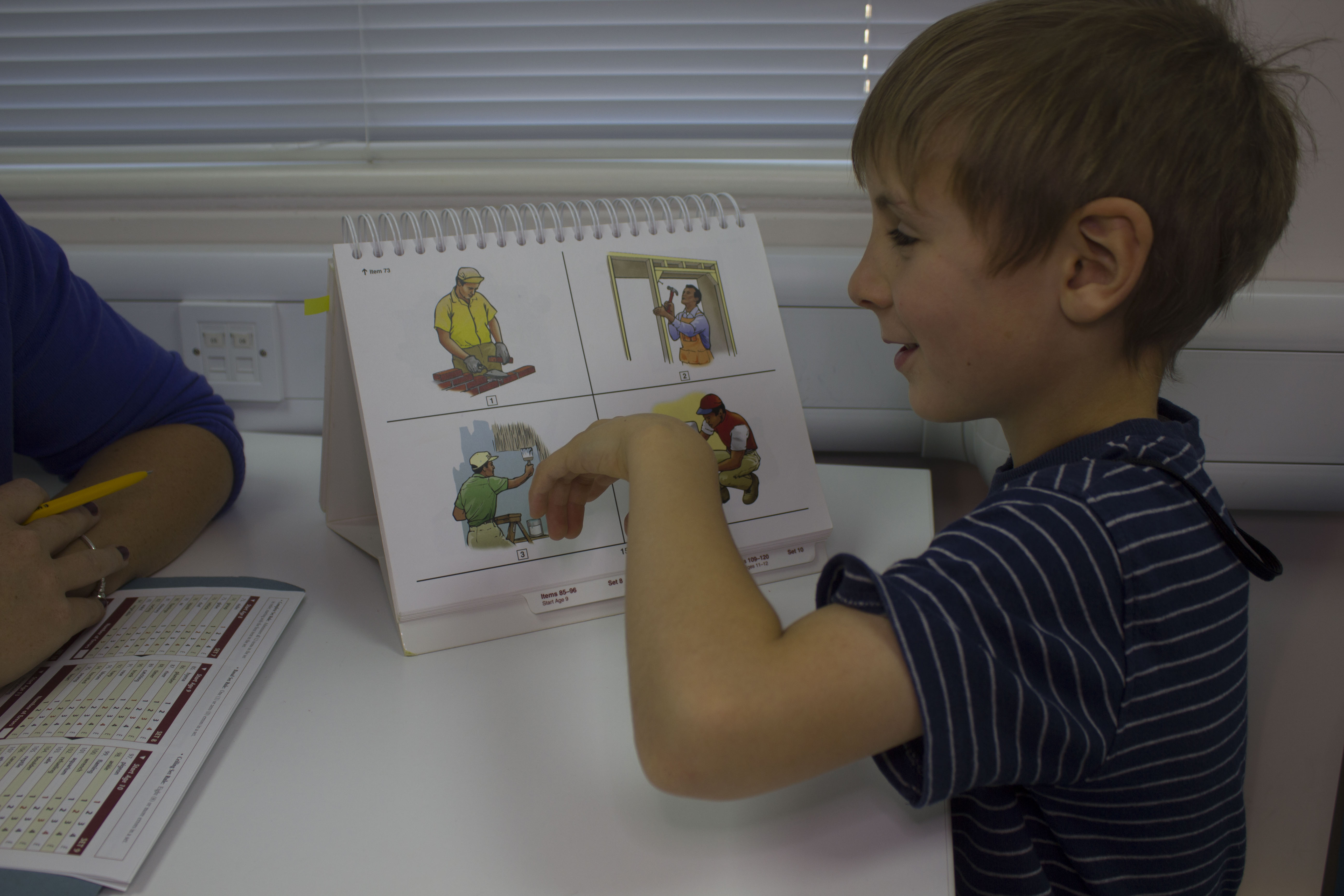 Learning to read is the most important skill that children acquire at school. Since 2006, UK schools have been legally required to teach children phonics knowledge – the links between letters and sounds – "fast and first". However, despite the apparent efficacy of phonics, this prescriptive approach to literacy education remains controversial.
With funding from the ESRC, researchers at the CBU, working with colleagues at Royal Holloway and UCL have used a laboratory model of reading acquisition to compare different teaching methods for learning to read. A study published in 2017 trained adults to read a new language, printed in unfamiliar symbols, and then measured their learning with reading tests and functional MRI brain scans. This research showed clear advantages of phonics teaching compared to other, whole-word teaching methods. Training focused on the meanings of words did not lead to better reading comprehension. Whereas, reading that is taught using phonics led to equally good comprehension and significantly better performance at reading aloud. fMRI scans revealed that phonics reading led to reduced processing effort in the same brain systems used for reading English orthography. This paper was awarded the 2018 Cognitive Section award from the British Psychological Society.
Follow-on research from the same team published in 2019 used fMRI to map the processing stages in ventral occipitotemporal cortex that support the translation of visual symbols into the sounds and meanings of words. In a further study published in 2021, they compared readers that are required to 'discover' spelling-to-sound and spelling-to-meaning regularities solely through experience, and learners who received explicit instruction (similar to phonics) on these regularities. In addition to more rapid learning, this study showed dramatic improvements in generalisation – the ability to read and understand new words – in learners taught with explicit, phonics-style instruction compared to discovery learning.
In combination, these findings help explain the benefits of explicit, phonics instruction for beginning readers. This work reinforces the important of evidence-based teaching methods in ensuring that all pupils have the opportunity to develop strong reading skills in their first years at school.
Published papers on these studies are as follows:
Taylor, J.S.H, Davis, M.H., Rastle, K. (2017) Comparing and validating methods of reading instruction using behavioural and neural findings in an artificial orthography. Journal of Experimental Psychology: General, 146(6), 826-858
Taylor, J.S.H. Davis, M.H., & Rastle, K. (2019) Informing methods of reading instruction with cognitive psychology and cognitive neuroscience. BPS Cognitive Psychology Bulletin, Issue 4, Spring 2019
Taylor, J.S.H., Davis, M.H., Rastle, K. (2019) Mapping visual symbols onto spoken language along the ventral visual stream. Proceedings of the National Academy of Sciences: USA, 116(36), 17723-17728
Rastle, K., Lally, C., Davis, M.H., Taylor, J.S.H (2021) The dramatic impact of explicit instruction on learning to read in a new writing system. Psychological Science, 32(4), 471-484
How to make sense of degraded speech
How to make sense of degraded speech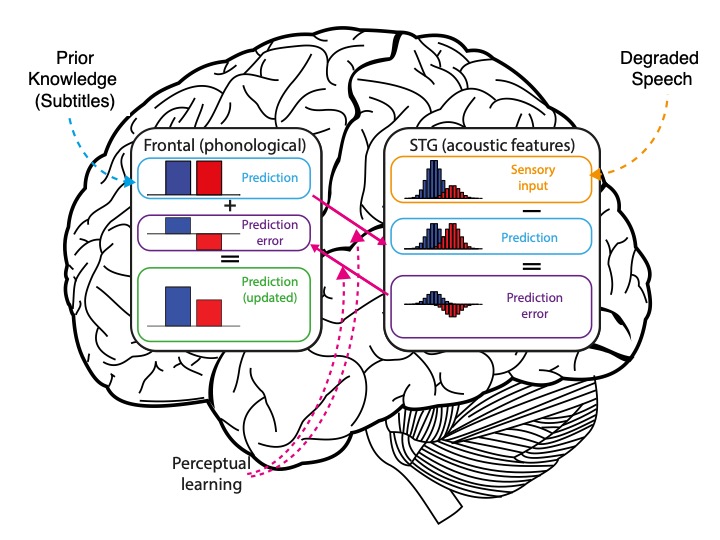 In our everyday life, we often encounter speech that is hard to hear and understand. This can be due to the noise of a busy pub, hearing someone with an unfamiliar accent, or for speech heard over a bad telephone line. All of these problems are exacerbated for people with impaired hearing; the most common sensory impairment in ageing individuals.
One thing that helps when watching TV is to use written subtitles that accompany difficult-to hear speech. Our research has shown that written subtitles not only enhance understanding and make speech sound clearer, they also help listeners to 'tune-in' so that they can better understand degraded speech even without subtitles. Measures of brain activity before, during and after this form of perceptual learning showed that subtitles help by reducing brain responses associated with "prediction error". A simple model of these processes helps explain the brain mechanisms responsible for learning to understand degraded speech.
This work with healthy volunteers hearing degraded speech has implications for people with hearing loss who are fitted with a cochlear implant in later life. Cochlear implants are prosthetic devices that restore functional hearing to otherwise deaf individuals. However, they provide a form of speech that is degraded and initially hard to understand. It can take months for a new cochlear implant user to get the best out of the degraded sounds that they hear. Subtitles, and other forms of visual support like lip-reading help cochlear implant users adapt to their implant. We are now beginning to understand the brain processes that support this simple intervention.
You can hear example audio clips from this project here: https://soundcloud.com/user-359399217/this-simple-trick-can-help-you-make-sense-of-degraded-speech
Or listen to an interview on the BBC Radio 4 programme "Inside Science" with senior author Dr Matt Davis, starting at 21 minutes: http://www.bbc.co.uk/radio/player/b07414kl
The published paper is: Sohoglu, E., Davis, M.H. (2016) Perceptual learning of degraded speech by minimizing prediction error. Proceedings of the National Academy of Sciences of the USA, 113 (12), E1747-E1756. https://www.pnas.org/content/113/12/E1747
Generating a passion for science and well-being among young people through the MYRIAD project
Generating a passion for science and well-being among young people through the MYRIAD project
Scientific research is often depicted as an isolated endeavour that is inaccessible to the general public, let alone open to the inquiry of school children. In order to bridge this gap and to share the science of well-being with young people, a group of scientists at the MRC CBU developed a set of public engagement activities in partnership with Oxford University. The award-winning programme, supported by the support of Wellcome-funded study of wellbeing promotion in schools (MYRIAD), included online resources on both research methods and on the adolescent brain. The former aimed at generating curiosity and excitement amongst young people about the possibilities for discovery and transformation that science offers, while the latter aimed at increasing their self-understanding through the lens of neuroscience and psychology. The resources were designed not only for the young people themselves, but also their teachers, educational professionals and science communication specialists. The MYRIAD project is an exemplary project that demonstrates how – with creativity, enthusiasm, and hard work – young people can be actively included in the conversation on adolescent mental health.   
Link: https://www.oxfordmindfulness.org/news/the-myriad-project-free-legacy-resources-now-available-to-download/
Do psychological therapy and antidepressants help by changing the same brain regions?
Do psychological therapy and antidepressants help by changing the same brain regions?
For decades, there have been two frontline treatments for those who suffer from emotional disorders: psychological therapies and antidepressant medications. Though they target different levels of the human person, both forms of treatment can be effective, especially when they are combined. However, the precise neural mechanisms through which each acts remain unknown. Scientists at the MRC CBU decided to evaluate whether these two forms of treatment might evoke similar changes in the brain by performing a synthesis of three prior meta-analyses. The team found evidence of separate mechanisms of action. While both psychotherapy and antidepressants evoked changes in brain regions underlying emotion processing, there was no overlap in the specific regions affected by treatment; specifically, while antidepressants evoked neural changes in the amygdala, psychotherapy evoked changes in the medial prefrontal cortex., At a time when nearly one in five adults in the UK experience symptoms of anxiety or depression, this research takes a step toward uncovering the neurocognitive means of achieving healing.
Citation: PMID: 33627201
OCS-BRIDGE supports the NHS with cognitive and mood screening in the wild
OCS-BRIDGE supports the NHS with cognitive and mood screening in the wild
When do difficulties with cognition or mental health cross the threshold from ordinary to something that needs medical attention? In the context of limited resources, objective testing is invaluable. But because highly trained specialists are few and far between, NHS health workers are often the ones responsible for the essential task of assessing patients' cognition and mood. In answer to this burden, MRC CBU researcher Tom Manly – together with colleagues in Oxford and the NHS – developed a helpful tool, a touchscreen app called OCS-BRIDGE. The app guides health workers through a range of tests, automatically captures and scores patient responses, and immediately returns a clinical report on language, memory, perception, attention, and mood. As OCS-BRIDGE is also highly portable and cost-effective, it is already streamlining care in the NHS and contributing to medical research throughout the UK.