B

r

a

i

n

B

u

s
     Neuroscience for KS2
      About Brain Bus
BrainBus is a scientific outreach initiative led by a team of diverse and enthusiastic neuroscientists at the MRC Cognition and Brain Sciences Unit (MRC CBU), University of Cambridge. We bring interactive neuroscience activities into primary school classrooms to inspire children from underrepresented backgrounds in STEM to consider a career in science.
Our goal is to provide a pivotal outreach experience by introducing pupils to subjects, careers, and role models that they may not otherwise access, at no cost to schools or parents/caregivers.
BrainBus won a prize!
In 2021, BrainBus won the British Neuroscience Association's Award for Public Engagement of Neuroscience. You can read more about the award here and here.
What happens in a BrainBus visit?
A BrainBus visit begins with an  interactive discussion about the Brain. Here, children have the opportunity to hold some 3D printed model brains and learn about differences between the brains of various animals.
Then, we have two exciting experiments which encourage the children to become scientists and gather their own data.

Here are two examples of the experiments we might conduct:
The

R

u

b

b

e

r

H

a

n

d

I

l

l

u

s

i

o

n

is a great chance for children to work in scientist-participant pairs to discover the relationship between our brains and our senses. We have found this is a great way of making science more exciting and also promotes collaboration between students.

See it in action here
In the

A

r

r

o

w

s

G

a

m

e

the children work in pairs to investigate what happens when our brains experience mismatching information. We relate this to experiences they might have in real life to put what they have learnt into context.

Take a look here
Sometimes we do different experiments instead, but we make sure that whatever experiments are conducted that children get the opportunity to experience many different aspects of being a neuroscientist such as:
Making hypotheses

Using equipment

Collecting data

Interpreting results

Discussing outcomes

Having fun!
We encourage questions and critical thinking throughout the BrainBus visit, and at the end we ask pupils to write down questions for our expert Neuroscientists working at the CBU to answer. We then email these answers from our top researchers back to teachers who pass these onto the pupils!
How long is a BrainBus visit?
We aim to set up the equipment (that we bring with us) during a break time or lunch time so that it's all ready for when the children come in. Usually, the session itself lasts for about 1 hour, though this is very flexible with material that can be adjusted based on time constraints.
Looking forward, we hope to have 2 sessions on different days so that we can go into more detail about the neuroscience behind the experiments and give more time for pupils to ask us questions. When each session takes place would be up to each school to choose.

 What teachers said about BrainBus

"What you delivered was very inspiring"
"Children enjoyed the practical activities"
"They enjoyed seeing animal brain models"
"The team were clear with their instructions, engaging, and knowledgeable"
"The activities were pacey so children didn't lose interest"
"Thank you for a wonderful visit"
                                       What pupils thought about BrainBus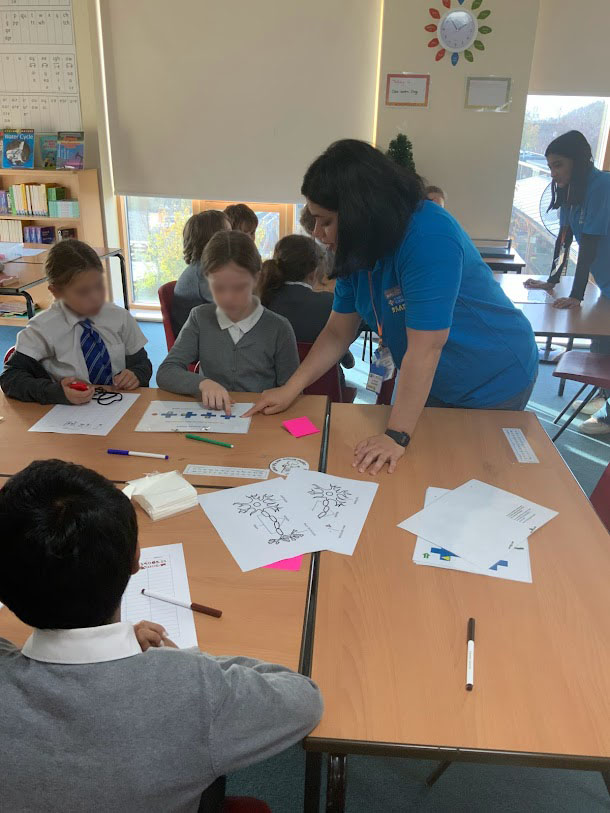 "My favourite part was doing the tapping game with the stopwatch because we don't usually do that." 
"My favourite part was learning about the brains because I found it interesting how unbelievable it is that there is brains"
"Never been a fan of science. Today was fun"
"It was all amazing"
'My favourite bit was talking to different scientists'
'My favourite part was learning that there are so many different things about science'
                                                                                                                                      Meet the team: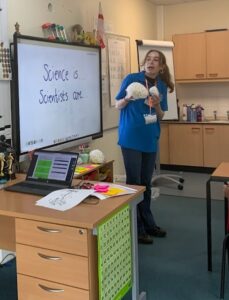 The initial BrainBus team have recruited a large number of volunteers from different areas within the MRC CBU to take part in the visits. The team have so far interacted with 200 key stage 2 pupils, across five school visits within Cambridgeshire.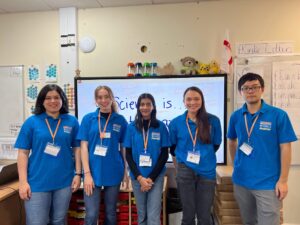 We hope to show the children they can become scientists regardless of their backgrounds, just like our volunteers working at the CBU who have studied lots of different subjects from many different countries. Our volunteers explain their own pathways to becoming scientists, which are often very different to what is expected. For instance, many of us found science tricky at school, but now love it and hope to inspire a love for sicence too.

What our BrainBus volunteers say:
"I think BrainBus is brilliant, the teachers seemed really grateful and the children were engaged. It is a very valuable addition to my work experience and I was really grateful for the opportunity." 
"It was great to see the children so excited about something they originally thought might be boring. I hope they can see themselves as scientists in the future if that's what they want"
"It has made me think about how to communicate the findings of our research to not just a non-scientific audience, but also a younger audience."
Other resources
Crosswords
The brain crossword
Memory and the senses crossword
Crossword Answers
The brain crossword: ANSWERS
Memory and the senses crossword: ANSWERS
Explore and interact with a 3D brain

The Brain Talk by Andrew
Build a Neuron with Lizzie
The CBU has a YouTube channel!
https://www.youtube.com/@MRCCBU/videos
How are we funded?

BrainBus was launched in 2019 as part of the MRC CBU's Equality and Diversity programme. Our activity has been funded and supported by the University of Cambridge Diversity Fund. 
Contact us here: brainbus@mrc-cbu.ac.uk