Configuring eduroam on Blackberry
Configuration steps
The first step is to obtain the correct certificate from here. Once you have saved this certificate to your computer you must now import the certificate using the Blackberry Desktop Software.
Connect your Blackberry to your computer via USB cable.
Once the phone has been detected by the software, ensure that the option to Use certificate synchronisation is enabled in Tools/Desktop Options in the General Tab
Click on OK, then click on Certificates, then the Root tab, then Import Certificates.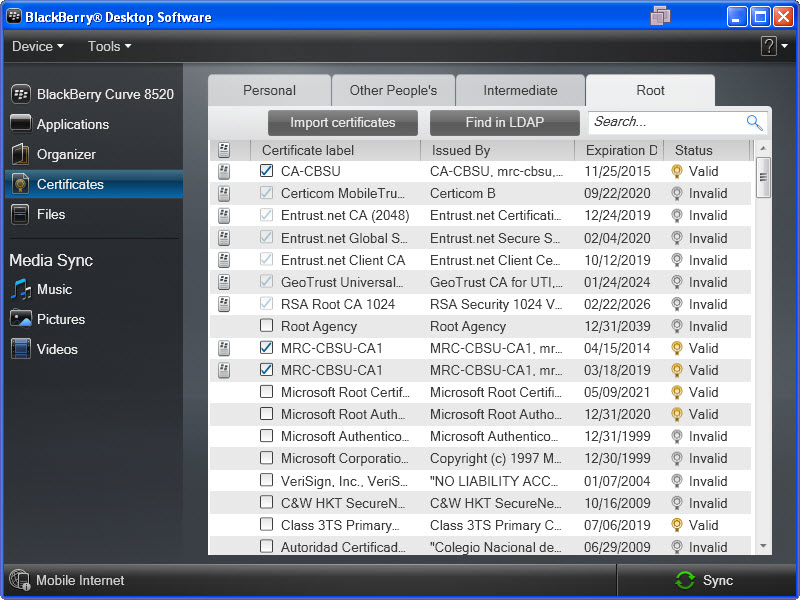 From the Select Certificate to Import window find the certificate you saved to disk, select it, and then click OK.
You should now see that 3 certificates have been added. Ensure that CA-CBSU, and both labelled MRC-CBSU-CA1have a tick box next to them.
Click on Sync.
The certificate will now be synchronised to the Blackberry.
On the Blackberry press the Menu button and then select the Manage Connections item.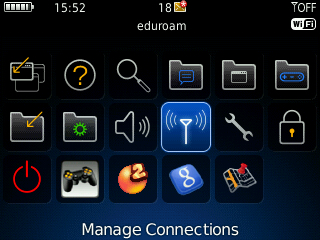 From the menu that appears select Set Up Wi-Fi Network
Click on the Next button
Select Manually add Network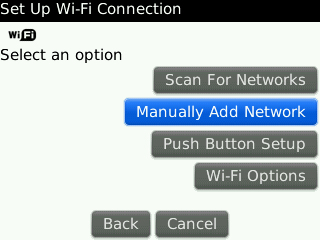 Type in the network name eduroam and click Add
Change the Security Tyoe from No Security to PEAP
Enter the username i.e xy99@mrc-cbu.ac.uk ; substituting xy99 with your own user ID
Enter password
Select the option CA certificate and from the menu find and select CA-CBSU
Go to the bottom of the screen and select Save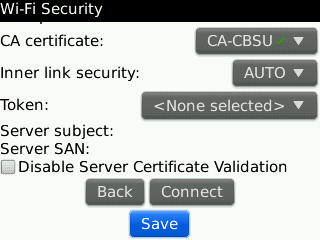 Ensure that Save this Wi-Fi Network as a Profile? is set to Yes and the Profile Name is eduroam. Then select Next.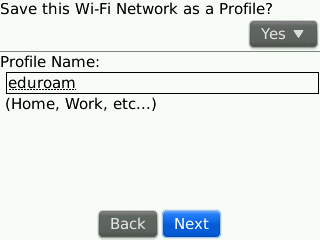 Wi-Fi setup is now complete. Click on Finish to continue.
Select the Manage Connections item again from the main menu but this time select Wi-Fi.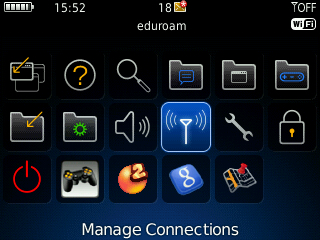 This will turn wireless on and it will automatically connect to the eduroam network.