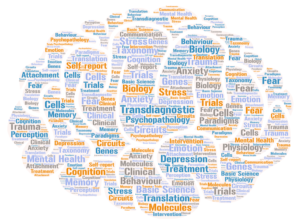 2018 Conference on Transdiagnostic Approaches to Mental Health Challenges
17-18 September 2018
The meeting will bring together clinicians and researchers who are interested in a transdiagnostic approach to understanding, classifying and treating mental health challenges.
In particular, we aim to address the challenge of translating the basic transdiagnostic science and classification of mental health into clinical assessment and intervention.
The Conference itself will be held at the Medical Research Council Cognition and Brain Sciences Unit, University of Cambridge, 15 Chaucer Road, CB2 7EF.
A dinner will be held at Downing College on the evening of the 17th of September.
The conference will include a single stream of Keynotes, open paper slots, rapid talks and a poster session.
Confirmed Keynote Speakers:
Prof. David Barlow, Boston University, USA
Dr. Jill Newby, The University of New South Wales, Australia
Prof. David Watson, University of Notre Dame, USA
Prof. Roz Shafran, University College London, UK
Conference Program
We are excited to make available the draft programme for the 2018 Conference on Transdiagnostic Approaches to Mental Health Challenges.
Click here to access the conference programme
Call for papers
The submission portal is open and we invite you to submit abstracts posters. Due to the small size of the conference we may ask you to present your paper in either format if space is limited. Please click here to register your interest.
Registration
Conference registration and payment is now open. Please register at the following link: https://onlinesales.admin.cam.ac.uk/conferences-and-events/mrc-cognition-and-brain-sciences-unit/conference-on-transdiagnostic-approaches-to-psychological-disorders/conference-on-transdiagnostic-approaches-to-psychological-disorders
Please note that the registration fee of £200 also includes the conference drinks reception and dinner on Monday 17th September at Downing College.
Special Section of Journal of Consulting and Clinical Psychology
To go alongside the conference, we are working with the Journal of Consulting and Clinical Psychology to co-edit a special section focusing on Transdiagnostic Approaches. Please see additional information here: http://www.apa.org/pubs/journals/ccp/call-for-papers-transdiagnostic-approaches.aspx
Getting to Cambridge
Cambridge is easily accessible by train and car. Please find the full address for the conference and the dinner below.
MRC Cognition and Brain Sciences Unit, 15 Chaucer Road, Cambridge, CB2 7EF.
Downing College, University of Cambridge, Regent Street, CB2 1DQ.
If travelling to the unit by train use Cambridge Rail Station on Station Road. You can then take the busway route U for 10 minutes or walk 15 minutes from the station to the Unit.
If travelling by car please be aware that we do not have parking available at the unit. Car park information can be found here: https://www.cambridge.gov.uk/parking
If travelling by plane you can get the train directly from Stansted airport or use the National Express bus services.
Staying in Cambridge
There are lots of options for hotels in Cambridge which can be found via: https://www.visitcambridge.org/accommodation
This website also has information on things to do here in Cambridge.
More details and registration information to follow. Please direct any queries to Tim Dalgleish and Melissa Black at transdx2018@mrc-cbu.cam.ac.uk