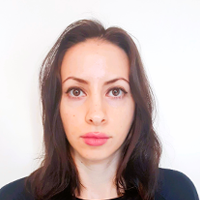 Eema Jawahiri
Research Staff
---
Eema.Jawahiri@mrc-cbu.cam.ac.uk
01223 766 166

I am a postdoctoral cognitive neuroscientist (research associate) at the MRC Cognition and Brain Sciences Unit, University of Cambridge.

I work as part of the Genomic Disorders and Cognitive Development Lab led by Dr Kate Baker, and my research aims to improve the understanding of brain function and symptomatology in rare neurodevelopmental and psychiatric syndromes of genetic origin. I work with primary and secondary phenotypic data, EEG data, and with in-vivo electrophysiological data from mouse models.

I am involved in the Brain and Behaviour in Neurodevelopmental Disorders of Genetic Origin (BINGO) project and in the phenotypic and brain function characterisation of synaptic vesicle cycling disorders, including SYT1 de-novo variants.