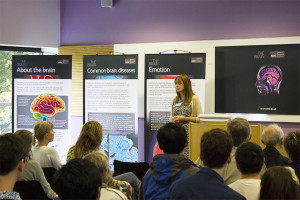 An entertaining and educational evening of demonstrations and lectures will be held at the CBU on Wednesday 12th March. Our annual science open evening, this year titled "Brains and building blocks" is given as part of the Cambridge Science Festival and features lectures from three of our leading scientists highlighting our varied research, plus the chance to take part in some of our experiments exploring how the mind and brain work, with time to meet the scientists and students doing the research. Hands on activities are run for the first hour, followed by three short talks. See Programme 2014 for a full programme of our talks.
Update 3rd March – this event now fully booked.
For more on the Cambridge Science Festival and the numerous events happening in Cambridge over the fortnight visit the CSF website.